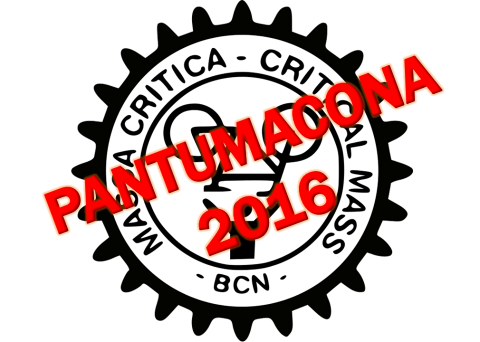 After last year's Criticona in Getafe, the awesome Piratona, Barcelona was chosen to be the next place for the Criticona.
Here is the exact moment when it happened.
We are starting to organize by recruiting volunteers, fundraising and thinking about interesting activities during that weekend. We are also producing some souvenirs so you can take home part of Pantumacona with you.
We will mainly use this website to release information and manage the inscription for those of you in need for accommodation.
There are 3 languages enabled (English, Catalan and Spanish) to reach a huge critical mass of people. Editors will be needed for translation, so let us know if you are up for this.
Another initiatives will be hosted here like the crowdfunding or "Ponte macona" to make yourself and your bike pretty for the event.
If you have ideas or just want to help we can talk in the forum (aka the mailing list). There is also face to face meetings that will be announced here, in the forum and the social networks.
We are preparing something very special that can't happen without your help so please join us in making Pantumacona an amazing cycling event!